The Konnected device can accept 6V to 24V DC in the base, or 5V DC via USB cable directly to the logic board. If you're replacing an existing alarm panel system, you can probably draw 12V DC from the existing system. Many alarm systems also have backup batteries that you can take advantage of in this case.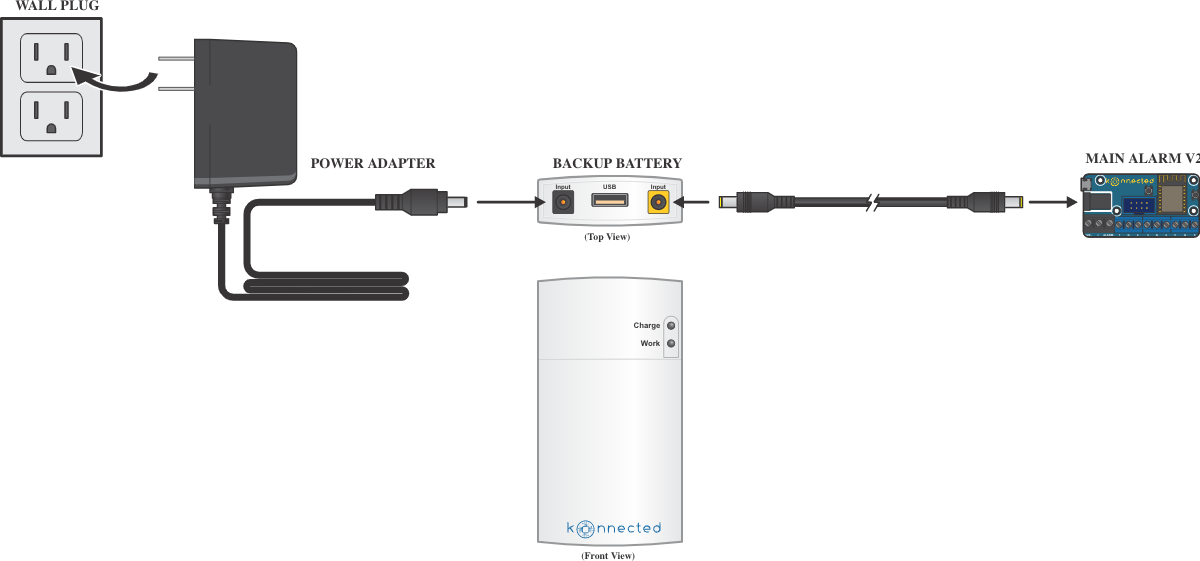 Power using a Power Adapter (Recommended)
A power adapter should have been included in your kit. If you have access to a 120V AC outlet just plug it into the outlet and your board.
Power using USB
If you only need to power the Konnected device, you can use almost any USB power adapter and a Micro USB cable. Phone chargers work great. Note that when powered by USB, you cannot draw power for external devices like motion sensors or a siren.
Powering Multiple Konnected Board
You can power multiple Konnected boards with one power source using a splitter. If you ordered a kit larger than 6 Zones one should have been included in your kit. You can also order one at our store.

Reusing the Existing Wiring (when a plug is not nearby)
Disconnect the Power to the alarm panel before you begin. Usually, this means unplugging a power adapter and unplugging the backup battery. The power brick may be in another area of the house (closets & attics are often hiding places)
Disconnect the wire on both ends from the unplugged transformer. Disconnect the wires from the AC terminals on the old board.
Use a female terminal screw adapter on the plug side. Use a male terminal screw adapter on the security panel side.
Plug in the Konnected power supply - plug in the terminal screw adapters on both sides.