If you are powering your Konnected device(s) from an existing alarm panel 12VDC AUX output, and the alarm panel has a working backup battery, then the Konnected device will receive backup power in an outage. But if not . . .
Let us help you stay Konnected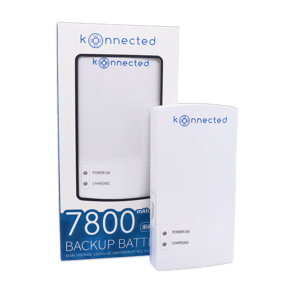 Keep everything running during a power failure with this mini-UPS 12V DC power bank made especially for Konnected. This device plugs in to your 12V power adapter and automatically and instantaneously switches over to battery power if the household power fails.
With 7800mAh of battery power, this lithium-ion rechargeable battery can power your entire Konnected setup for up to 14 hours! It's also suitable for backup power for a WiFi router, cable modem, or any 12V DC consumer electronic device.
It's also important to have a battery backup for your wireless router and modem. If these are installed in a different location than your Konnected devices, you will need multiple backup batteries.
Note: Shipping restrictions on lithium ion batteries require special handling. We may not be able to ship these batteries to some destinations or with all carriers. We'll contact you if there are issues.