A zone in the context of alarm systems refers to a sensor or a group of sensors. Each zone in your system will show up in your smart home app as an individual device that you can name. For example, a single door sensor wired to a zone may be named "Front Door". You may also have a group of windows wired together on one zone and call it "Downstairs Windows".
A good place to start is by looking at your existing alarm system and count the number of zones. Often the keypad from your old system will have a zone listing either handwritten on a label, or programmed into the display.

Also take a look at the alarm panel wiring. Usually you'll find a wiring diagram on or inside the panel enclosure. Find the corresponding wires for each of your zones, and count how many pairs of wires are connected in total. Each wire pair connected to the zone terminals leads to one sensor in your home.

Separating Sensors for Individual Monitoring
In many homes with traditional wired alarm systems, you'll find one or more zones that have several sensors tied together. For example, it's common to see Zone 1 include both the front door and the garage entry door. Konnected allows for unlimited expandability and gives you the capability to separate these sensors so that each one can be monitored individually.
We recommend that each door sensor and motion detector be separated into its own zone. This allows for the greatest flexibility for automation and monitoring, because you will know exactly which door is open or in which room that motion was detected. Windows, especially a series of window sensors in the same room, often make sense to wire together into a single zone because it's less important to know exactly which window is open.
When planning your Konnected system, count the number of individual sensors or groups of sensors that you want to monitor. This may be more than the number of zones on your old alarm system if you decide to separate a few sensors.
Konnected is a Modular System
Each Konnected panel supports up to 6 inputs and one dedicated output. You can expand to an unlimited number of zones or inputs by simply adding more 6-zone modules. We sell kits in combinations of 1, 2, 3 and 4 modules to support 6, 12, 18 and 24 zones respectively.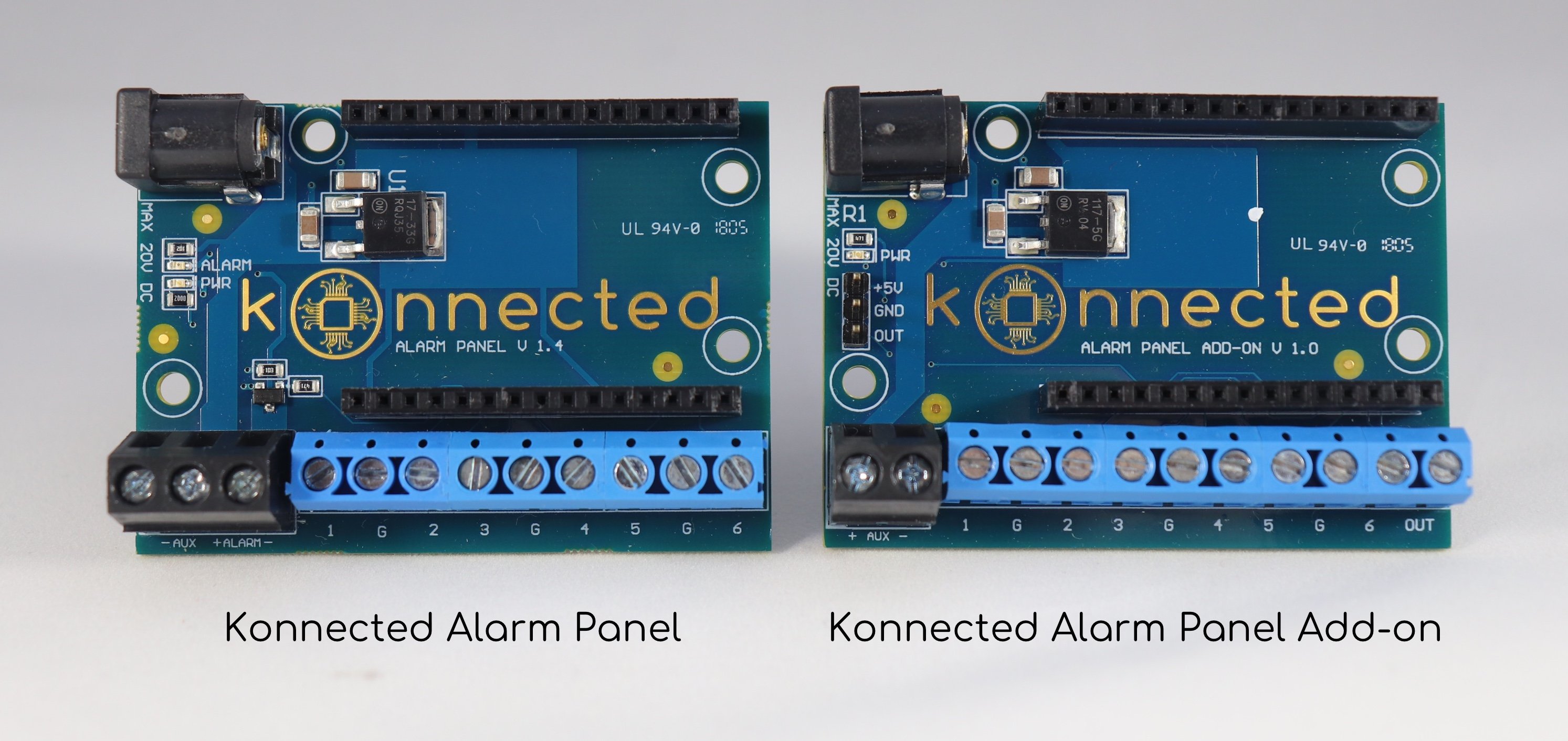 Outputs: Siren and Piezo Buzzer
Each Konnected module has one dedicated output. The Alarm Panel board has a dedicated 12V output for a siren, strobe, LED or other 12V powered signaling device. The Add-on board has a 3.3V OUT terminal and pin for connecting a piezo buzzer, relay module, door chime, or other low voltage signaled device. Since most homes have only one 12V siren, each kit comes with one Alarm Panel board and the remaining boards will be add-on boards.
If you have two sirens, or a siren and a strobe, or just want more than one 12V switched output with your 12-zone or larger kit, just let us know after ordering.
The zones labeled 1 through 5 can also be used as 3.3V outputs. You can connect the piezo buzzer to any of these terminals if you don't have an add-on board available.
The 6 Zone kit comes with one Alarm Panel module. If you want to connect a piezo buzzer as well to your 6 zone module, it will occupy one zone!